Colle di Val d'Elsa
During the journey we recommend visiting Colle di Val D'elsa's village, appear in the medieval age. The high part of Colle Val D'elsa is the oldest one, it's well restructured, It's close to traffic and it has lots of restaurant and markets with traditional products. It can be reached by the high part, following via Volterrana, as by the low part with a useful lift which was created using the subsoil's tunnels of the village. The entrance is very close to the principal square, called Arnolfo square.
In ancient times the village was equipped with lots of subsoil's canals, that were used to make work the mills, the paper factory and the production of glass and crystal. The last one, the crystal of Colle val D'elsa , it'is famous in all the world, so we recommend visiting the crystal's museum.
Moreover, biking and walking passionated could go through the Elsa pathway and cross the park near the river Elsa which is distant about 1 km from the agritourism, or take the 6km cycling lane to go to Poggibonsi. You could also go through the Via Francigena toward Monteriggioni or San Gimignano, furthermore following dirt roads in a few minutes you could reach the Montagnola Senese and the Monteriggioni's stronghold.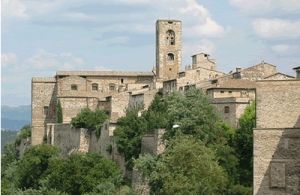 Siena
Siena is immersed in an hilly and suggestive landscape. The town is contained in the list of Humankind's Patrimony of Unesco thanks to its stylistic medieval features.
PALIO 2TH OF JULY AND 16TH OF AUGUST
It's one of the most famous Italian event known in all the world. It represent Siena citizen's life in its typical aspects and feelings. Its origins are very ancient and some rules, that are valid nowadays, were established in 1644, year in which the Palio was run for the first time.
In 1729 Violante di Baviera, governor of the city divided the territory of the town in 17 parts called "contrade".